Want a firm grasp on your Google Analytics?
The word "analysis" might sound boring to you. But to me, someone that works with marketing, it gives me access to a lot of very interesting data.
It is data that gives insights in regards to amount of clicks, website visitors, conversions, device used and a whole lot of other information. With Google Analytics I can measure on your ROAS (Return on Ad Spend), keep a close eye on your SoMe activities, website traffic and a lot more. In other words, Google Analytics gives me a quick overview of a website's performance, and it is data that can be used for further optimisation!
Do you need help to setup your Google Analytics? Reach out to me and I will help you. If you are already using one of the other options from my portfolio, the Google Analytics setup is free of charge!
Measurements in Google Analytics could also include sales data, leads, and counts of visitors on specific pages or downloads of files. Google Analytics shows current and historical data via a very graphical Dashboard, especially in Google Analytics 4.
The average user can get a quick overview, and data nerds, like me, can have a more in-depth overview. Analysing with Google analytics can help identify pages with poor conversions and/or poor display rate. It also can display information in regards to where the viewer came from (referrals), how long they stayed on the pages, and where they come from geographically.
Google Analytics also delivers more sophisticated functions such as customer segmentation. Google Analytics E-commerce reporting shows a page's transactions, turnover and many other sales related metrics. Google Analytics is a very effective tool with a very interesting story to tell about your website's performance. Google Analytics is free to use, and I automatically set it up, free of charge, when you chose one of my other services.
Optimised for Advertising
Google Analytics is absolutely free. It is free for you, for me – for everybody. It is also part of the reason why I do not charge anything for setting it up or integrating this magnificent platform for you. Analytics makes it easier to understand how the customers interact with your website or application, so you are immediately able to know what works, and what does not. You can quickly see how your visitors react to your pages, and what role they play with the help of reports and the dashboards. You can even connect systems, that measure CRM, sales channels and other points of contact to your customers in order to get a much more comprehensive overview. It gives you the opportunity to correct a few things, mobile optimisation, design, content length and usability, to finally achieve more conversions and have revisiting user purchase. Use Google's unique machine learning to get insights from your data sources as, in example, who is most likely to purchase or which customers have a high likelihood of purchasing your products.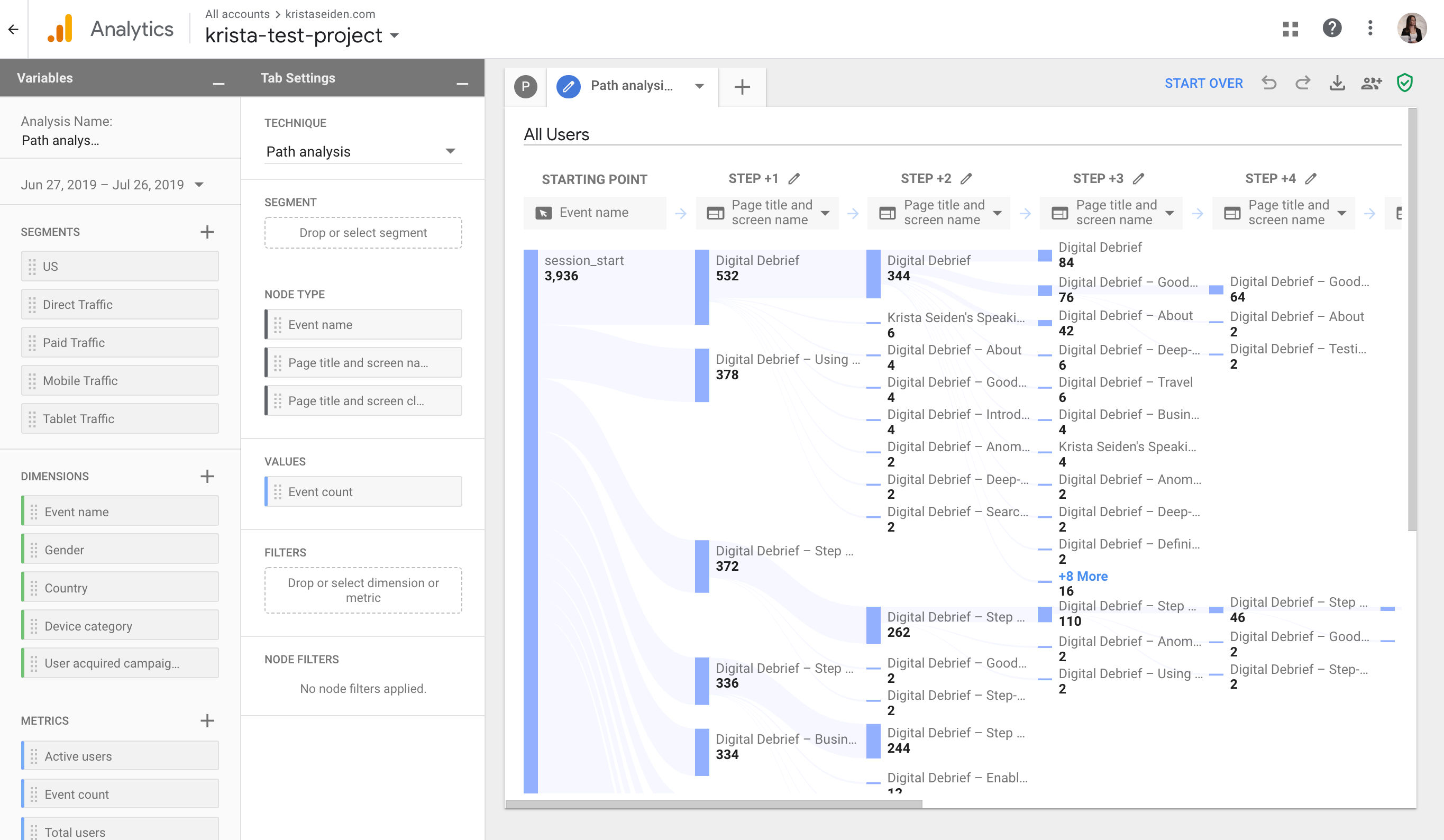 Analytics has been built to work together with Google's advertising and publication products, so that you can better use this data to reach the right customers. Combine Analytics with Display & Video 360, Google Ads, Adsense, AdMob and Ad Manager. Create marketing lists, based on your Analytics data and get quick access via Display & Video 360 and Google Ads. Easily analyse your data through a very user friendly interface and use the very easily shareable reports. Measure and share huge amounts of data within the blink of an eye, and use APIs to integrate it with existing systems.
Frequently Asked Questions:
Short answers to questions I am often asked. You do not see your question in the overview? Reach out to me, and I will reply to you as fast as possible.
Do you setup Google Analytics for your clients?
Absolutely. If you decide upon purchasing one of my services, then I automatically ensure that your website will be connected to Google Analytics. How else would I be able to show you the advantages you have gained, by choosing me as your business partner?

What if I do not use you for marketing?
If you should decide not to purchase any of the other services that I provide, then I am still able to help you getting started with Google Analytics. The only difference then being that I charge you a small fee for setting it up and integrating it into your website. I would, under normal circumstances, charge between kr. 250,00 and kr. 500,00 depending on the amount of work I would be required to do.
Who would you recommend Google Analytics to?
Anybody who is operating online, that wishes to keep track on their performance regardless of whether it is in regards to conversions, visitors or app installations.

Can you work with existing Google Analytics accounts?
Yes I can. It is not a prerequisite nor a requirement that I should have been the one to set up your Google Analytics account in the first place, in order for me to be able to work with it. It is all the same to me. I will have to make changes anyway, and these, of course, are free of charge!
Are you ready to get started?
Let us create results together. Contact me here!